From the jump, the Spolarized® Executive Café™ was a hard task to do, to tell it how it is. Focus on truth. Politicin' has never changed my opinion. Nothing at all could change my mind of what I learned over time.
It would be safe to say this CEO started with a song and formed her first office on an ironing board with a pay phone in Queens. Gaining street sense from her collection of connections she piled on her doorstep. She applied to the walls of her estate those who crossed her path. The rich and the poor enter her door.
She states her philosophy as a simple one. "Most people dream for themselves. I, however, dream the dreams of others." She uses music as her personal, inner, healing physician. She uses her electrical energy to stay young, and her body's harmony to function that is her divinity into space. This CEO believes that you won't be perfect and you will always have flaws. However, Spolarized is the classical touch to a transition rush. It could be the ride of your life – an express ticket pass the zero zone.
The excerpts below are from my journals which include the people that are a part of the fabric of the joys and sorrows of building an empire.
Welcome to Executive Cafe!
Aaron Braunstein & Olivia
Father of the actress Natasha Lyonne. She stared in such films as "A Man Called Surge", or perhaps you remember "American Pie 1 and 2." Aaron was a boxing promoter.
When I needed a break from my office on 38th in NYC, or a laugh, Aaron's office down the block is where I'd head. It was nothing to hear phones ringing, while the stock exchange rolled across the computer screen. The office had many colorful bottoms. It was nothing to sit hours chatting, drinking fifty cent coffee from the corner vendor.
Aaron was always pushing me to be his agent. Aaron taught me how to keep gloves on in tight situations. Aaron is the host of Talkline Communications Network and can be heard over airways in many a cities, including NYC. Guest featured on Talkline range from president (Clinton) to prime ministers. Like it or not this "Jewish Shock Jock" always gives it to you straight up. In his own element, his home, his hard a** softens some when he slips out of his suit jacket. Olivia Alive™ and Arron chillin' outside my office in NYC.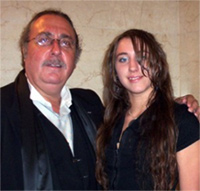 Aaron Neville
During a Crossroads Festival in Memphis I got the chance to meet Aaron. For a week we'd greet each other in and out of the elevator during the event and in the clubs. Aaron always let me go ahead of him in line. It would be safe to say he's polite.
In the hotel there were live ducks parading around. Many ducks. The ducks would come and go on the elevator. He always let them go ahead of him and wait for the next elevator. It's amazing how trained those ducks were. Aaron was always dressed in his artist attire and hat. He is one polite man, polite enough that even the ducks recognized it.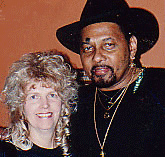 Beanie Sagel
I've met Beanie a time or two. He's always surround by some sort of crew. Most of the time he's offered me love with some sort of friendly gesture when I say hello. Once I went to speak to him when he was truckin' wit Damon Dash. Damon indicated don't bother. Beanie complied until Damon turned his head; then I got the Sagel grin. Beanie's smart as hell, he knows Damon as well as everyone else.
Every time I've seen this young man he has move in and out the crowd as if it were a thoroughfare he had traveled on before. Philly is a tough city and in order to survive you must be fearless. It hasn't change very much since I was a kid. However, I think it could use a good face lift.
Beyoncé
Beyonce is more than a singer. This girl knows how to strut her stuff before buyers at conventions. She is smooth as silk and beautiful. She is a co-writer and co-producer of other artists. Like Pink, Beyonce's dad is her manager. Both fathers are proud of their daughters.
Most people would think that Jay is lucky to be married to Beyonce. However, I think Beyonce is lucky to have Jay. Jay has accomplished my favorite line, "comin' from nothin' doesn't mean you can't be something." The marriage, respect, and love you see between Jay and Beyonce is living proof that the West Coast and the East Coast can come together. Three cheers for bonding.
Black Eyed Peas
APL.DE.AP offers a smile every time he sees someone knew standing around him. WILL.I.AM is a guy who acts like the rest of us, normal. If you want to know a guy who enjoys creating music in the studio, he'd your guy. Most people would agree, that those who work the conventions and the tours for Black Eyed Peas, are cordial.
However, when it comes to Fergies management team things are slightly different. When a management team comes under question for their actions, they'll more than likely give excuses to their clients. Fergies management lady, whom I haven't met, doesn't return calls. Makes me wonder how many deals Fergie may of missed, eh! How many times are you expected to call a manager before she returns a call? After three or four times you get the message why bother. I always wait a few weeks' in-between calls to managers in case their traveling and the message got erased. In my case the four tries were with an answering machine and a live person.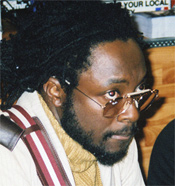 Busta Rhymes
When Busta rhymes he keeps it raw, rough and gritty. I experienced him once in the raw. During a Treach birthday party in NYC, Busta was partying down, big time. Surrounded by his bodyguards in the VIP room, Busta leaned over the bar and ask the bartender to fill him up. A young man hollered, " Yo, Busta! You are the bomb. You're my favorite rapper." He reached between the bodyguards and tapped Busta. "Yo, Busta. What's up?" Busta swiveled in his barstool and replied, "Who invited you the fu** into my world?"
Sitting next to Busta for hours and watching the interchange I knew it was a good idea that I hadn't tried to converse with him. There's one thing about in the game: don't be pushy. Stars are pushed around enough by paparazzi. It's rare that they can hang loose in public places like Busta was doing. Busta won me over with his music – his raw, rough, and gritty rap and his mean performances.
If you hung around stars long enough you'll learn as I to cut them slack for their actions.
Bow Wow
It just so happened, that I was called in to film a music video at a live event at Disney. Bow Wow was one of the acts. It was during the time when he was still called Lil' Bow Wow. Perhaps you remember in the early 90's when it was fashionable, for rappers to have one hand grabin' their crotches.
Lila' Bow Wow came out on stage with Jarmaine Dupi in fashion with a mike in his one hand and his other hand in his pants. Jermaine walked over and began to question Bow Wow's actions. He stated, it didn't look good for a kid to pull on his crotch, and he asks where Bow Wow learned such a habit. Bow Wow replied he learned it from the best. Jermaine ask, "who might that be?". Bow Wow replied, "you Jermaine".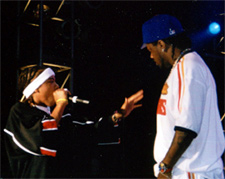 Calvin Lang & Greg Stevens: The Giants
Two big men. I met them while I was in Vegas at the "Magic Show." They were modeling for a men's clothing line. The two men have been partnered to model for a clothing manufacturer who created a line of clothing for them, which lead to a sponsorship. Over the years I built a relationship with these giants.
Greg is 7ft. 4in. – a steeple weighing in at 340lbs. A sweetie. Always ready to whisper in my ear what I ask him straight up. He doesn't miss much since he stands over everyone around him. He's been offered acting jobs along with many ventures throughout the years. However, Greg's main focus has always out weighed stepping into the entertainment world, over being a loving son, brother and family member, one any mother would be proud to call a son. Greg is a rare authentic serene monarch who walks planet earth as gentle giant.
Calvin on the other hand, is a 7ft 6 in. – a tower weighing in at 400lbs. Calvin has had his hand in darn near everything. Like most giants in a fairy tale, he's had his days as an amateur boxer, he's worked as a bouncer, has a black belt in Karate, spent four years in the Marine's, and bench-presses his weight. Calvin has traveled to many countries, acted in commercials, has been in many movies and was the man in the suit for the movie "The Predator." Calvin has a foundation called Calvin's Kids. When you think of storybook giants as being mighty, Calvin fits that title.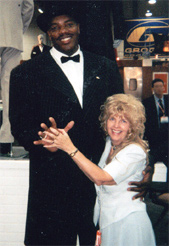 Damon Dash
Back in the 90's when Damon was lookin' to put his feet firmly on the ground, back when he needed friends to help him out, I met Damon. I asked him to listen to my first rap music. He said, "what the hell do you need me for? You're almost there. You can do this yourself." I never did figure out what the hell he meant. It was obvious that I was a learner and could use a little help.
On my way out of the office, I thought I'd mention the new designed Rockawear shirt, he was so proudly sportin'. Although I was somewhat green in hip-hop, I know a lot about intellectual property matters. So I offered him some good advice. His designed line was missing the most important part, the trademark. He said, "I'm ready to press thousands more. Gee, thanks for savin' my a**. I'll get right on that."
Damon may or may not say hi when I see him at events. I've never gotten an invite to any of Damon's events over the years. However, Jay Z's camp has always been cordial to this old lady.
There's something to be said about those who supported Damon to the top. office on 38th & 8th in NYC. A place where they were always welcome.
Years later when I was filming my production the workers never forgot this old lady in need. To my surprise a package arrived on the set filled with Rockawear. It was in honoring Jay that the workers sent the package. They knew Jay wouldn't have had it any other way.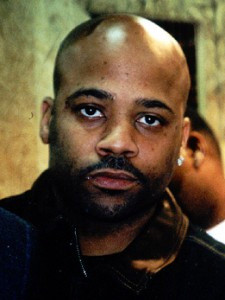 Diddy
I sorta believe Puffy, P. Diddy, Diddy, Combs, Sean Combs, whatever he wants to be called today, believes he is a good person. He's been known to say, he wears white because he thinks he's an angel. However, I've never met anyone who spoke about him using such terms. In case you didn't know, in every city, in dim lit alleys, there's a thing called street sense. Sometimes street sense makes perfect sense. The streets could care less about Diddy's white suit attire. The streets care about who was Diddy?
Although, I haven't been in Diddy's company much, my dear friend has. She was in the club the night of the event in which there was gunfire. I went through security with Diddy during his trial daily on a trail that was held opposite his. Each day he would wave to the teeny boppers outside the court house sporting his white suits. It was thrilling to meet and greet his powerful team of lawyers. Johnny Cochran was a favorite of mine.
Over the years a numerous amount of beat maker and artists have shared their experiences working with Diddy and Bad Boy Records. Most people will agree Diddy got his start from the streets and learned how to rap and produce through the help of Biggie, Mase, Easy Mo Bee, and many other artists. He has proved that a person shouldn't give up on something tainted or rumored for the end result could be innocent. One thing is for sure; Diddy is a business man.
Donald Trump
Donald on TV appears arrogant. True or not, inside his mansion I saw a different side of Donald. I asked a few questions to see if I'd get a response, and I did. Have you ever really known an employee who wouldn't spill at least something about the boss? It's just the way it is.
The fireplace which I sat in front of, however, was not something I'd write home about. Married to a genius with stone and brick, I was disappointed in Donald's fireplace. It fell way short of what I expected. The gold chairs, white sofas, and crystal chandeliers added a touch of luxury. It was the place where most of the people attending the event gathered with drinks and conversed.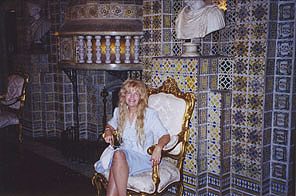 DMX
I met DMX at the time when he was makin' hits, turning money and building a Ruff Ryder nation of people. Known as a dark man who liked the letter X. I can remember most of his crew who supported him. He gained fame quickly. Ruff Ryders booth at Magic put on a powerful display of cycles. Eve who was barely known, hung over the second floor railing of the booth waving hello to the crowds below.
Ray Copeland befriended this new star and pumped him up across the streets of NYC. Ray did his best to make things happen as his manager. Ray succeeded. DMX was turning big numbers out the gate. I was impressed with his hard-core style. DMX is just as good an actor, as he is in rappin'. It's easy to see why his rhymes are tough and his dogs are considered ruff. His rhymes are suggestions to understand trenches. I took up his proposition. And here I am today…
Doug E. Fresh
Back before urban wear got so hot and wearing one color was good enough, is when I met Doug E. He was hanging out with his Dad and his manager Jerry Hubcap. Doug's dad and I shared about where the hip-hop world would lead me. Jerry and I became good friends. When Jerry needed to chill from the city pace, he'd come to my estate. He and I worked on movies and did a video production for a group of artists.
Doug E. doesn't rhyme about bull sh*t, he stays faithful to his style of old school. Doug E. still gets respect in the game. It would be rare to hear him brag about the hood, cause he's just too nice a guy. A single parent dad who keeps it movin'.
Easy Mo Bee
In the world of hip-hop beats, here's a handle to be honored. Mo Bee's instrumentation is the wallop for classic platinum.
Just a few artists he's worked with: Tupac, Alicia Keys, Busta Rhymes, LL Cool J., Biggy, Big Daddy Kane, Craig Mack, Miles Davis, and Bad Boy Records.

Spending time with Mo Bee in my office in NYC on 38th and 8th offered me the challenge to create music worth platinum. My skills were put to the test each time Mo Bee took a listen to my work. One night around 4:00 AM, my office staff went out on the 14th floor window ledge, in the name of hip-hop. The ledge was as wide as their feet and who knows how much weight the ledge could hold.
I thought if I'm ever gonna be accepted into the urban community, then I've gotta have some balls. Somehow I had enough bravery to climb out on the ledge with them. Mo Bee pitched a fit. He said, "I don't want to be the cause of an old lady fallin' to her death for the love of the game. Get the hell back in the office." Then he offered me his hand. I was damn glad to accommodate.
That event elevated us to a new level of trust. Mo Bee got to visit me in my element on Spolar's Acres. There he chilled; even tried cookin' in my kitchen. That's a no- no. He learned; in my house a guest is served. Lastly, Mo Bee is the kind of guy you don't mind introducing to your Momma.
Mo Bee will go down in history as the beginning of a generation of rappers who became platinum by learning the art of spitting their feelings into verses, hooks, and life situations mixed with a beat. Just one of the reasons hip-hop took hold of me. I could let out my frustrations about the world in which I was cheated.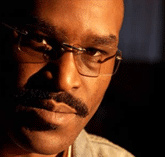 Elvis (1935-1977)
When I was a teenager everybody in my school thought Elvis was a hot sensation. The night Elvis appeared on the Ed Sullivan Show (1956) I got up close and personal with our TV set, ready for the performance. When the show came on, I began to scream. Tears ran down my face. He was so real, so alive, so exciting, so gorgeous, singing a new flava called Rock-N-Roll.
As the TV cameras rolled, I got a taste of what thrusting from the waist looked like. My mom had less concern than my dad about this guy. Mom understood you move with time, for yesterday is gone. Dad turned the TV off. Dad saw Elvis as an overtly sensual being. I played Elvis's "Don't Be Cruel" on my RCA 45 record player one hundred times. I played it loud enough to let my dad and the neighbors know I could listen to Elvis a hundred times and not end up in the fast lane. I played the song every day after school, including weekends. I counted down from 100, as I played the song again and again, as torture for all concerned.
The last year of Elvis's life he came to town for a concert. I went with my teenage daughter at midnight with lawn chairs and stood in line till 9:00AM the next day to buy tickets in the 6th row.
I learned from sources close to Elvis that his manager, Col. Tom Parker, robbed him of 50% of his earnings. Parker was an illegal immigrant. Unbeknownst to most people is the fact that many labels, publishers, lawyers, accountants, managers, and the like have drained wallets of a lot of celebrities.
The New York Times reported that Elvis's doctor, "Dr. Nick," prescribed 19,000 doses of narcotics, sedatives, and stimulants for this King over a period of 32 months. Dr. Nick had to know the results would be death. Elvis died at age 42. A lesson wasn't learned: doctors today still over-prescribe drugs. Elvis lives in the hearts of those who claimed him King…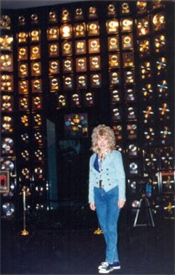 Eminem
To date, Eminem (a.k.a. Slim Shady, Shady) hasn't trucked passed the places I been trucking. Nor for that matter, has Dr. Dre. However, in 1999, I fell head over heels with this lad's talent. By 2003, Shady's clothing line broke floor space at the Magic Show. Thinking the moment had finally arrived, I'd get to chill' wit Eminem face to face. Here it is 2009, and I'm still waiting. Many of Eminem's staff I knew from other lines they had worked.
The staff handed me ONE of Shady's tee's. Of course with six grandsons who back Eminem, ONE tee shirt may as well be none. I admired Eminem right out the gate. Unlike most parents and grandparents, I appreciated Eminem's talent. I thought how clever of Eminem to spit truth about his sh*tty life and his feelings about a messed up society. Till Eminem came along I hadn't heard any artist gut wrench their parent publicly, in such a fashion as he.
My children, my relations, and my friends, thought I had lost my mind. Red light to red light while driving, I'd be bouncing behind the wheel with my stereo cranked rappin', "Please Stand Up". People would look over at me as if I was crazy. Eminem's rhymes made sense to me.
When the movie "8 Mile" hit the box office, I went to see it three times. Listening to Eminem's music helped me win popularity among young adults. It enabled me to understand where children of today are coming from. It served as a way for me to talk with children rather than at them. It also proved to my grandchildren that I didn't have a generation gap. Three cheers to Eminem.
Erykah Badu
I was lucky enough to meet Erykah while visiting Kadar's office. I got a peak of her little belly as she fixed her attire, which appeared to be layers of cloth. We spoke a few words about the child of Andre' from OutKast, she was carrying. She was soft spoken and polite.
Once outside the label a limousine awaited to carry her off. I have always rode in style with a faithful yellow cab. It's an honor knowing that science claims those cab drivers in NYC and many other large cities, of having larger brains than the rest of us.
Eve
I was there the first time Eve entered the Ruff Ryders booth at Magic. Although, she was new to the industry of clothing she entered the place in style and captured her audience. She was the Queen of the event. It was later that evening at an event that I got to see her in action, the other side of Eve, few get to see. Although, she was groomed by her managers, the Dean's, her label and DMX, to be rather tough, coming from Philly wouldn't be that hard to accomplish.
At the events and conventions I watched this young girl surrounded by men, mature into a feminine lady. I have many bags she gave me from her clothing line Fetish. I've enjoyed many of her songs and I'm proud of her many accomplishments.
Fat Joe
It didn't take me long to figure out that Joe is big. What I didn't know was how big his heart was. My client Olivia Alive™ was chosen to play for Celebrity Basketball. It was an all-male team. I didn't doubt for a minute that she could handle herself on the court. However, when I saw Joe on the court, I thought, if Joe falls on Olivia, I'd be out a client. Joe was good to all the players; he stayed on his feet. As the years went by I got to know his crib. Like most cribs, Joe's Camp ended up in my office or would chill with me at events. Like Joe, his camp is very generous. Ironically, it took me a while to recognize Joe's writing ability. In 2003 I placed his song "What's Luv" among my favorites.
Frank Stallone
Nothing could educate you in the world of music faster than a pro. Meeting Frank and sharing with him during a Donald Trump event was my pleasure. I always related the name Stallone with Rocky, most people would. What an opportunity it was to sit with Frank and his dad, whom I knew little about.
I had all the reason in the world to want to know Frank, aside from owning my own label. Hell, for years I listened to his music blasting from my cellar walls. Every day after school my twin sons would lifted weights, while listening to the Rocky soundtracks. I should have known one day a Rocky would be running around my estate. When my second grandson was born, my son named him Rocky.
It was obvious to the hospital that a star was born. We played Rocky's theme songs and decorated the bassinet in the nursery at the hospital, with photos from the Rocky movies. As you would imagine our Rocky was never wet. The nurses loved all the attention they were getting from this infant. What struck me most about Frank and his family was how much they sound alike, and how gifted they all are.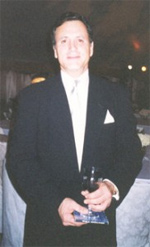 George Clinton
George and I go back to Bandstand. Our paths haven't crossed in years. I saw a crowd of people hurdling around someone. I rushed to see who it was. There was George. He saw me and yelled, here's an old American Bandstand girl. Catching up to him was a snap shot moment of joy. We hugged as lights were flashing.
ICE T
The first time I met T. he seemed dignified. Nothing like the civil liberty activist image he portrayed as a teen with obscene rhymes. He spoke in terms that were straight to the point. He is softly spoken with soft hands. We shared information about endorsement deals. He set me up to meet with his associate in NYC.
His associate was much like T., cordial. I picked a place in Harlem for us to meet for dinner. The place had sofas with coffee tables, and candles everywhere. We were served sweet potato pie, the best collard greens, and of course great ribs. As the bottles of choice wine kept flowing a bond was made.
I rely on my intuition when meeting someone new. It never fails me. I was right with T. He isn't the type to let a label control him. He isn't as rugged a fellow as he appears. His acting skills on "Law & Order" are natural. He doesn't need an entourage. He's someone you'd take home to meet your sister.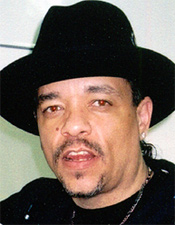 Jadakiss
I ask myself why a guy would wear chains around his neck. They seemed like a burden. They reminded me of the ones on our tractor. This fellow didn't know me from Adam, yet he invited me into the Ruff Ryder's booth. I took to him like I do to good collard greens.
There were many people around and I wanted to share with him something in private. So I whispered in his ear. Aroused by what I whispered, he set up to meet with me one on one at a place in Vegas. However, Jadakiss had to take an unexpected on a flight before we could meet. I looked at it as a missed opportunity for this lad.
The next time I saw Jadakiss was at an event. I stayed low key and watched him maneuver around the VIP lounge. It offered me a glimpse of his demeanor. A rapper who didn't need an entourage, a rapper who embraces society.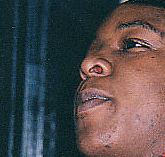 Ja Rule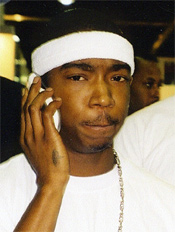 The first time I saw Ja Rule in action was at a convention. He strolled through the place as if the many fans weren't even there. His bodyguards didn't have a problem with the fans because they understood Ja Rule wasn't given them props, not even a glance. There have been times after that, in which I'd attend the same event in the VIP lounge as Ja Rule.
Ja Rule never switched it up; he maintained his smooth composure as if he were an average cat in town. After downloading the pictures I took I realize he's on his phone, as if he had never really left home. This man needs to cut lose from his cell and who ever keeps him tied to it.
Jay Z
When it comes to this rapper most East Coast urban teenybopper will say, Jay is their favorite. If you ask college students from both coastal areas, Jay will be a hit and miss. I got invited as a VIP guest to one of Jay's parties. Like most urban events the crowds are enormous. The block was closed by the NYPD like I knew it would be.
Jay's party had an abundant amount of finger food. Drinks were plentiful. Everything was top notch and almost everything was free. The party filled to capacity.
My best experience with Jay happened while visiting Def Jam. I was totally pi**ed off from an A&R fellow who made a racist statement. I'll call this fellow E. E had know idea that I got the interview through Russell's LA film department. E was one hour late. For some unknown reason A&R usually are late.
I entered the elevator and there stood Jay. It had rained that day so I had an umbrella in my hand. I was so upset over E's statement that I began ranting a raving pointing my umbrella towards Jay. At that point, Jay and I have never had a personal conversation. He knew he was stuck in the elevator with a lady who seemed slightly out there. His face became calm and he said, "miss, I would appreciate it if you would stop pointing that umbrella my way. It makes me feel uneasy." It was obvious when the elevator door opened that Jay was glad to exit. I still laugh over Jay today.
Jermaine Jackson
Aside from all the riff the world has learned or heard about the Jackson 5 and the rest of the family, there stands the famous bass player and artist Jermaine Jackson who made my heart sing at one point in my life.
I saw Jermaine walking with the children and his dad, Joe, at a convention. They were chillin' like they were normal street folks like the rest of us. I was amazed. No bodyguards, no entourage, and wearing normal attire. We shared for an hour or more, laughing, kidding, and exchanged business cards. I talked to Jermaine about a movie deal. He offered me his options in order to close a deal. But it didn't fit the way our company operates, or our budget.
During Michael and Janet's events I left messages on his phone that I wish his family well. Jermaine is softly spoken and cordial, the children likewise. It was the first time I ever had the opportunity to speak with celebrities children. Although I can't share with you our conversation, I was impressed. I honor Jermaine for his accomplishments in life.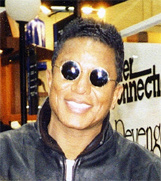 Kenny Mark's and Olivia Alive
Olivia Alive's parents were following the explosion of Christian music hitting airways and huge concerts. They traveled the countryside for years to Christian festivals. At one of Kenny Mark's concerts Olivia Alive disappeared. It only took a moment for her to work through the crowd and climb up on stage during the performance. She began dancing and singing on stage the song Kenny was performing. He introduced her on stage before handing her down to her mother. Olivia Alive has never stopped accomplishing her goals.
Killa Priest
I met Priest in the early 90's, when he was hoppin' with Sunz of Man and again in the late 90's while he was truckin' with the Wu Tang Clan. We developed a friendship. He was always promised big deals by labels. However, I reminded him that a deal isn't a deal, without big money on you're a**. It's all about the money in this game.
We lost touch for a few years until I saw him again in Vegas. I was free styling to a group of homies when Priest walked up with his buddies and freaked out over my ability to rhyme. He joined in for a blink. Priest has always had a spiritual side to him and a warm heart.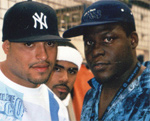 KISS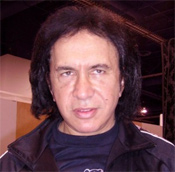 It's impossible to explain how it feels to be standing next to an aged super star listening to him talk. Even more impossible when you see a young lady walk towards us and he reaches out with his tongue and lick up and down on her cleavage. What appeared to be an exquisite young lady was a far cry from that.
She offered her cleavage to his massive tongue and he got right into the act. The men standing around us yelled, Kiss-um. And believe it or not when the yelling stopped, the young lady finally asked, "who the hell was that."
The Father of Hip-Hop: KOOL HERC
Everyone in hip-hop should know the father of beatin' beats, as it was known in the beginning. However, some have no clue how cutting or scratchin' vinyl began in NY and spread from town to town.
In 1997 at a Vegas party I got my first taste of Herc. He was doing shout outs to NY while on stage with my friends from Lyricist Lounge. If you know anything about being at a party where there's shout outs, know matter who's doing them, when the DJ says, "New York's in the house," New York outdoes any other city. Plan on the place going nuts-oh.
Herc knew I was out of place. He knew I wasn't like the gang members from school, nor was I filled with anger using the beats to channel my aggressions that night. I stood out like a flamboyant blonde should. Herc came off stage and walked right up to me. He put on the warm self he had in those days. We developed a friendship.
In 2000 Herc ask for my clients Like Dat and Olivia Alive to perform for his birthday party hosted by Hot 97 at club Leviticus. I've watched Herc model for lines and develop his own clothing line. I've watched his looks change as well as his attitude. And, over the years I've watched him choose his friends more wisely.
Praise to Herc the man who contributed to hip-hop. He's the man who kept vinyl hot a lot longer in the marketplace and made a hell of a lot of money for vinyl companies.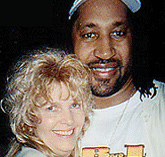 L.A. Reid
I met Antonio back when he was at LaFace Records. He respected me in the world of hip-hop. At the time I was working my first client, an R&B singer out of Memphis. Although he liked what he heard, money was tied up at the label. Working a deal at that point would be nearly, impossible. Antonio believed in honesty and laid it on my lap that Baby Face was hittin' and he needed to keep it movin'.
Over the years I kept in touch with the label and it's staff.
When Antonio left and came to NYC I lost contact with him. As you may have learned by now, if you're looking to talk to someone important at a label such as Antonio, the assistant makes decisions for the boss, and he'll never know you existed. That wasn't the case at LaFace. Antonio ran the ship.
My gut feelings about Antonio remains the same that eventually L.A. (Antonio) Reid would suit up and maintain his image at Def Jam, as he has in the past with each of his endeavors. In 2006 I finally got the chance to meet his team at Def Jam.
Lassie
Of all the celebrities I've worked with or come to know, Lassie had nothing to say. When conversing didn't work, not a wag of the tail or a lick, I knew asking for a picture was the only command left. It would be nice if other dogs got some lessons in how to be this obedient. I'm not what you would call a dog lover, but I've raised a few dogs in the past.
My most favorite dog to date is my female beagle. She was an orpan, she came to my doorstep and wouldn't leave. I named her Social because she befriends the valley people and the hill people. Unlike Lassie, she acts like a dog and smelled like a dog. Social didn't have tremendous patience like Lassie. However, she is a dog known for her faithfulness as a Workforce Giant. She's was free spirited and has the run of the estate.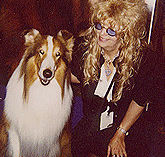 Lil' Flip
Flip trucks with his guards and plays the roll of an artist. He's actually not as rough a fellow as he appears. His bark is more than likely just that. where many men have made plenty of cheese should have taught Flip something. Flip has an attitude towards an industry that grabbed his loot while bringing him fame. However, things aren't handed to us on silver platters without a price to pay. Flip has the desire to rock his own crib and do things his way. His inter hurts stop him from understanding the reality side of the business world and how it really works.
Master P
P.'s personal side has always touched me. P. hasn't change one bit in the game since we met. P. is basically stable. How many people can say that?
Back when No-Limit was hot, No-Limit was all you saw on screen in P.'s videos. As much as I liked P., I still found myself gagging on No-Limit. So I offered him my advice. P. has never disrespected me during our many personal conversations.
During the No-Limit days I admired P.'s lawyer, Edwin Hawkins. I enjoyed Edwin's intellectual side, his actions, style and grace. Together Edwin and P. developed a camp built on unity. P.'s brothers are just as sweet as P. How many of us can say that about a lot of basketball players? P.'s family, along with his staff and reps, were as cordial as P. P.'s bodyguards likewise.
I care less what the world thinks about P. Miller, Master P., how he dances, how he raps, or how he chills. To me P.'s proven to be not only a wealthy man, but also a gentleman. His donation to the needy is in the millions. P. was one of America's 40 richest under 40, ranked no. 28 of the top 40, earning $361 million. Forbes' annual list of the richest entertainers in one given year was P. earning $56.5 million. It just goes to show how good the 90's were for P. Like many in the game P. has had some charges brought against him over the years. I don't bother speculating about any drama that seems to surround hip-hop, cause I'm well aware how situations get messed up.
Lastly, Master P. is the only rapper who takes me under his coat for private talks, gives me a kiss goodbye, and whom I challenge to rap.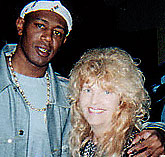 Milli Vanilli
This pop/dance act made up of two guys, Rob and Fab, and master mind Frank Farian, mastered the art of performance and the use of lip-synching. How shocked we were to learn this act had pulled the wool over our eyes! More shocking was that the audience that made them stars felt they crossed a line that wasn't forgivable.
The act was up for Best New Artist at the Grammy's. My associate learned, after the fact, that the performers feared being caught. The other side of the story is that these guys were polite and committed to their work. Sad to say, after the truth came out, Rob had a hard time dealing with his personal Greek tragedy. Nothing however can change the fact that the music pumped us up and won us over.
M.O.P.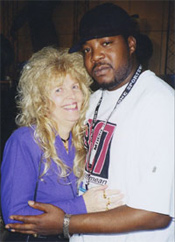 I met M.O.P. at a party. Billy was like a teddy bear. He asked me, "What's a lady like you doing in hip-hop anyway?" My reply, "I wonder at times myself." Weeks later I found myself in the studio with Laze listening to their new album. They sounded pretty hardcore to me.
On occasions I'd call Billy's sister to see how he was doing on tour. I spoke to her about her underground brother and how gentle he was. She assured me that this was a rare side few get to see. Laze and I spoke many times on the phone during the birth of his child about M.O.P. Although this group is not domestic and stands for the hardcore uninhibited side of hip-hop, I can assure you Billy knows how to treat a lady, like a lady.
Mylon Lafever
Mylon Lafever and Broke Heart were hot in the Christian world back in the late 80s, just about the time a child was conceived. The dad and his family loved Mylon Lafever and Broke Heart. The dad said, "Should I have a son I'll name him Mylon." Sure enough a son was born. The family agreed it was fitting to take the baby to a concert.
When Mylon Lafever and Broken Heart entered the stage and began to perform it seemed to the family that Mylon Lafever was different on stage than he had been in other concerts they had attended. Mylon Lafever seemed to be struggling to finish the concert. Baby Mylon had never seen bright lights before and he never heard screaming or loud noises. It didn't seem to bother him; he watched the show without sleeping a wink.
When the concert ended, I went back stage and asked Mylon if he could take a moment to bless the baby named after him. He obilged. Mylon Lafever held the baby on his lap and talked to him about growing up to be a strong warrior. He kissed the baby goodbye. He said he wasn't feeling well and had to go. Later that evening, we learned that Mylon Lafever was suffering from a heart problem. After that, Mylon Lafever didn't seem to tour as much and concentrated on speaking events.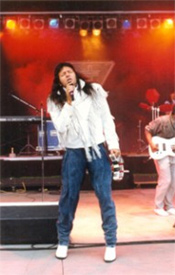 NAS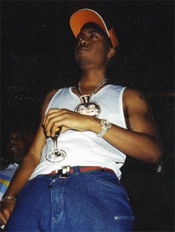 In 1994 as Nas's greatest hip-hop album hit the streets, I was leaving my broccoli patch to enter the world of hip-hop. Years later during the R.Kelly tour, I was sharing with Fat Joe as we watched the performance from a side stage, how Nas was rip the house down as if he was the headliner. The audience was going nutso over him.
Shortly after that I got to see him again in a different light. I wasn't impressed the way his bodyguards treated him and I don't believe he was totally conscious. I've always felt he was a talented young man with firm convictions.
Nelly
In 2002 I got my first look at the newly designed clothing line called Vokal, along with Nelly's camp. It didn't take long before I was accepted. Nelly's entourage and family have always been courteous. However, long before meeting Nelly, I got to meet one of his buddies left behind when Nelly was signed to a recording deal. The rapper opened his heart to me on a corner in NYC. The meeting was set up for me by Antonio to discuss how recording deals work.
Nelly and I have had few conversations. However, over the years, Nelly's family members (Yomi and Sean) and I, have had many private discussions about dozens of things. I set into place his deal with Diadora for the Grammy's. I was there when Nelly's entourage picked out their selection of shoes, and watched Bill accommodate them. This opened the door for his staff to seek other endorsements, like Air Force One.
Nelly was lucky enough to have a heck of a family behind him. He had a heck of a crew. He had a staff willing to listen, who were always open to new ideas. Nelly's autographed picture hangs in my office as a reminder to me how many personal words of wisdom, encouragement, and direction, from a community of believers it actually took to help this lad move forward.
Notorious B.I.G.
This rapper came with many handles: Christopher Wallace, Notorious B.I.G., Biggie Smalls, Biggie, and maybe a few I haven't heard. I learned about this rapper from the streets. It seems as if I couldn't get away from talk about East Coast vs. West Coast rivalry whenever his name came up. When I first caught sight of Biggie, beautiful ladies were wrapped around him. Biggie and Diddy (then known as Sean "Puffy" Combs) was rollin' Brooklyn streets.
Diddy and Biggie had something in common beyond their friendship and love for music. Both artists had some confusion on what they actually wanted to be called. I've never met anyone famous who changes his or her name more than those two. Biggy's music, his style, and his flava, became more noticeable to me when I started to hear him in mixes with other artists.
I got a VIP pass invite to the "Remembrance Celebration of the Life of B.I.G." Talk about drama. When I arrived on the scene the block had already been shut down by the NYPD. There were uninvited people everywhere. Utterly nuts. I looked at the situation and knew this old lady would never get to the door. Lucky for me, an officer thought the same thing. I went in through the back door. My heart goes out to Mrs. Wallace and to every mother who has lost her child.
Olivia Alive and Rudy Ruettiger
Perhaps you remember the blockbuster movie based on a boy with a dream of playing football at Notre Dame, named Rudy. Olivia Alive was a guest speaker at an event in which the real Rudy, on whom the story was based, was also a speaker and signed his book "Insight for Winning on Life."
Olivia Alive drew a portrait of Rudy during the book signing and she presented it to Rudy after the signing. Olivia Alive is a professional visual artist. She draws her vision of life from life itself. Rudy is a warm person and teaches how to deal with choices and challenges.
Outkast
In 1999 I met OutKast, two talented guys. The first thing came to mind, was "flower power" from back in the fifties. As we sat chillin', I was impressed. Prior to meeting OutKast, members of the crew, Andre, Regina, Swift, and some of the guys in the studio, mentioned I should rap for Dre and Big Boi. Spittin' for platinum artists isn't that easy. I wasn't sure I could do it. However, I gave it my best shot.
It was one of those special moments I'll always treasure. When I was done with my rhyming, Dre and Big Boi instantly stood to their feet, shook my hand, and gave me props like I never had before. They knew what it was like to be different, standing before me in their multi-colors of printed flowery cloth. From that day forward their albums traveled many a miles in my Ford.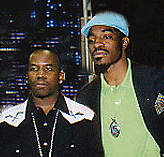 Pink
Pink and her family traveled throughout the same stores and town I did, in Doylestown. When Pink hit the airways, I saw her as a fresh new act in the industry. She began her career as an opening act for artists. During that time she knew fame was just a blink away and prepared herself for it. Her writing skills and collaboration with others, lead her to lean more towards rock, creating the Pink we know today.
In sharing with her dad on the phone I came to know the more personal side of Pink through her Dad's eyes. He spoke about how important it is to let his little girl be who she wanted to be. He is one proud dad. I see Pink as a girl whose always challenged herself to improve.
R Kelly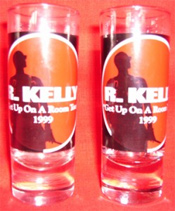 When it comes to vocals R Kelly's got what it takes to make platinum. I was lucky to be invited back stage at one of his concerts. He was the headliner but his performance wasn't what I expected from such a talented young man. He spent part of the concert spread across a blow up bed on stage with a lady under the blanket while he made sounds and sung. It took a few minutes to fill the stage with the bed and covering. I'd much rather of seen him standing on his feet singing to the huge crowd. His successful song "I think I can fly" became his signature song. I was given two shot glass empty because I don't do shots. Cheers to this artist for his writing skills and his vocals.
Redman & Olivia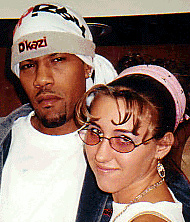 Anyone who knows Redman would probably agree he says the funniest things. Over the years he has made me laugh many times. Redman's attitude, his cheer and his hype are what I like best about him. I admire his calmness in tight situations dealing with society. He gives it his all during autograph signing.
My client Olivia Alive™ interviewed him for a TV show we were putting together. He was in the right mood and made us bust a gut on the set. It made me realize that he's been in the game long enough to have experience many things. He is a seasoned rapper. Redman will always be a warrior leaning towards the ghetto side of life. He is the calmness after the war.
Ruff Rydres
I learned about the Deans, Chivon, Dee, and Waah, when they were working with DMX. Ruff Rydres was what was poppin'. Over the years I've talked to many of the crew. In one given week I called Waah's cell everyday twice a day. He assured me he's on top of things. I've watched Ruff Ryders change, seen their growth, and their failures.
Ruff Ryders is impressive. They know how to put on parties, how to put on an amazing display at tradeshows, how to turn out platinum artists and how to make music.
Ruff Ryders goes beyond the world of music, into the world of Motorcycle Clubs across the country. In meeting the Ruff Ryders Riders over the years, I haven't found any of them that wasn't friendly. Cheers to everyone who's involved with Ruff Ryders.
Snoop, Snoop, and Snoop Dog
Snoop may never remember meeting me, he may never remember meeting any of you. He has always greeted everyone with cheer and never changes the character he portrays. Snoops reps played the role of cool to the max, you'd of thought they were celebrities instead of employees. The sad part is that the reps had lots of want-to-bee friends, who got the VIP passes, verses the buyers. Shame on the reps.
The one thing that sticks in my mind is how wired it is to see smoke comin' from Snoop's mouth when he's not smokin' a darn thing. The smoke lasts for about ten minutes after he has stopped smokin' his brand of choice. Pretty cool, eh! It's been a few years since I've been in his arena, however, this year I sent my associate Eddie out to meet with him and he liked what we had to offer him. As always, one on one, Snoop was his gracious self. You may be surprised to learn how business like Snoop really is, and how generous he is with his finances.
Stickey Fingaz
Back in 97, when hip-hop was still under development, back when I was rockin' an office in NYC on 38th, Sticky could be seen every where. Sticky was in the VIP lounges spreading his love nightly. His promotion manager and his street team took up space in my office.
In a matter of 3 months Sticky's manager and his street team, along with rappers lookin' for a place to create their buzz took up every space in the office. I believe it was my office; I was the one paying all the bills. Sticky's crew pitched in a few buck if I ask towards the phones.
The only place not taken on the 6th floor was a closet. I quickly grabbed it. I soon discovered it was the place the water pipes ran throughout the building. I befriended every mouse and cockroach that ran the pipes late nights.
I chalk up what I've learned from the streets as an education greater than I've learned from any teacher or from any book. Hell, I was learning words I'd never heard before, and learned how to use them. I learned how effective these words could be when you want someone to move out of your way. It wasn't something I'd write home to momma about. However, I knew my language switched into high gear and it made things happen.
Sticky sat aside hip-hop when it came to adults. He spoke soft and cordial. The hip-hop community thinks of him as a hard-core rapper because his lyrical rhymes touch deep into the heart of ghetto. When you think of Sticky you may remember Onyx. It didn't take me long to understand that lyrics were the way rappers settled vendettas.
Stryper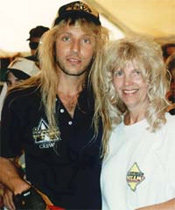 Back in the 80's I listened to Stryper from sunrise to sunset. Across the valley of my estate you could hear the sound of "To hell with the Devil." I placed my speakers on the window ledges and let them rip. It's what I do with any artist who's gifted.
As one of the advisory board members of Kingdom Bound Ministries, I got to meet with the members of the once known group Stryper. I also had the chance to speak with Benson Records on an upcoming Christian act.
There's only one thing left to say: I learned while sharing backstage that Sweet is Sweeter, one on one, then any sugar cane.
Tupac Shakur
In honor of Tupac's precious life, I'd like to share what I've learned from my sources who knew him personally. They spoke about how easy it was to work with him, about his mad skill. How they honored him. They spoke using words like noble, sterling, valuable, and irreplaceable.
In the world of hip-hop there have never been more stories spoken throughout the streets by the urban community, than about the death of this young man. The desire for truth just seems to linger. People want to believe that the only witness was Yafeu Fula. Perhaps they forgot Suge also witnessed the event.
Most people believe there was a rivalry between Biggie and Tupac. I happened to befriend an officer of the Vegas gang squad shortly after Tupac's death. He worked on the investigation. To my knowledge I've never met anyone who doesn't want this case solved. I've met people who refuse to believe Tupac is dead. However, officers on the scene and Suge Knight have a different opinion. One thing is certain: this young man's lyrical skills were teachings. Teachings that seemed at times, mediumistic. As for the many mothers who have lost a child, my heart goes out to them.
The Village People
I met The Village People at an event hosted by a convention. The audience went crazy over every song. The crowd just couldn't get enough and when the song Y.M.C.A. was performed, the crowd was so loud you couldn't hear The Village People. Who would have thought such a mature crowd could still be that crazy? There wasn't a person in the audience under twenty-one.
The Village People put on a show worth seeing and did two curtain calls. They looked great. After the performance they came out into the crowd and joined in on the celebration of the event. The Village People, unlike other artists, don't have an entourage or bodyguards around them. Cheers to a group who works well together…
Wu Tang Clan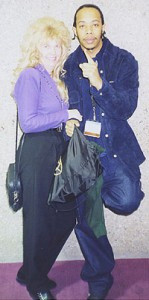 If you love hip-hop, or want to sh*t your pants, perhaps learn the game, this is a clan that will haul your as* around to make sure you got it. I met up with members of the Wu shortly after I hit the streets of NYC. Word got out that I was lookin' for beats for L.D.G. I got a call to stand on the corner of 34th and 8th . A clan was comin' to pick me up. Sure enough a big 4×4 pulled up with a group of men.
As I climbed in the back seat I noticed they were sportin' bats on their chest, that matched the big sign on Broadway. At that moment, I thought, I may be batty. We sped off with the music blasting. I realized I'd get some schooling while cruisin'. I learned that rollin' had more then one meaning, as we hit dim alleys. Got to hear lots of urban lingo. It didn't take me long to realize this was a well diverse group of individuals with skills. I learned that good girls can bump it, without riding it. That thugs could also be dignified. By the time the night was over these warriors had affected me. I stepped out of that 4×4 with a tribal degree.
Over the years, I've met almost all of them. I've been inspired by U-God, Tim Bo, D.O.B., Killa Priest, Red Man, Method Man, Links, BK and Shi Reka.
Wyclef Jean
Have you ever wondered what it would be like to be a VIP guest of Wyclef? An invitation came for me to attend a Wyclef's party in honor of his wife Claudinette on Mother's Day, May 9, 1999. Try telling your children, and their eight children, you won't be able to attend a Mother's Day dinner in your honor. My children ask who the hell is Wyclef compared to us? They have a point, eh. After all they're more than likely the ones who will be choosing my nursing home.
Choices are tough, however, I made mine. Wyclef sure knows how to throw a party. In addition to the food, drinks, floorshow, fashion designer Angel Claudio, and talent, was his beautiful wife. Lucky the man who has a gem at his side with such natural beauty.
Wyclef is one third of The Fugees, from the era of the 80's. Over the years I've had the opportunity to speak with the owners of Ruffhouse Records, Wyclef's first signing label. They were extremely grateful to Wyclef and The Fugees. Up to date you can hear Wyclef's seasoned talent during his performances with Santana. It was my pleasure meeting Wyclef's brother Samuel, who handles his legal matters. He and I have had many conversations over the years. What amazes me about Wyclef, while sitting in my office on 38th & 8th, is to see Wyclef driving through Manhattan, stopping at red lights to sign autographs without an entourage.
Wyclef is free spirited with a sense of values.