Philly Fans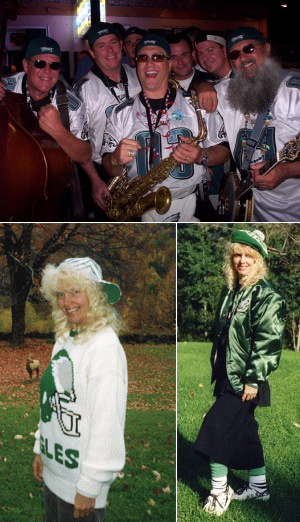 Philly Fans – are like fine wine
Philly fans are more likely to attend pro sports than the natural average and more likely to spend on sporting goods. Philly fans get better with age like fine wine or high priced cappuccino. Philly fans pass their team down to their children. Although Philly is known for its cheese steaks and pretzels, it's also known as the city that boos things that don't sit right in its bellies. For example Philly fans booed Santa Claus when he appeared during a game cause they didn't think it was appropriate. Three cheers to the City of Brotherly Love.
There's Nothing Like a Philly Fan
There's nothing in the world like a Philly fan. I'm not just talkin' football; I'm talkin' about any sport in general. I have been a Philly fan since a child. Things got more intense when I married a QB / RB, who played as a sandlot football player and a sandlot baseball pitcher in Philly. However, the Army stepped in on our wedding day and handed him his greetings at the back of church. He went off to play as a RB for the Army. A die-hard Philly fan wouldn't switch teams so during his tour of duty, I continued viewing him as a Philly player in the wrong jersey.
Philly fans make sports a family event
Philly fans make sports a family event. It's nothing to see Philly fans with kids on their shoulders, yelling like dad with their mom seated next to them. Philly fans are athletic grandstanders known for being witty comebackers. I've been a cheerleader and warrior for my twin sons, who have played darn near every sport to the point that many times; I sat in the hospital hoping they'd live.
I enjoyed these Philly fans on Bourbon St. the night before the Eagles played the Saints.
Troy Aikman
I had the privilege to meet Troy a few times. He seemed like a guy who was taught not to talk to strangers. I've met much friendlier football players. Which lead me to ask his fellow teammates, what is he really like? Most thought when Dallas lost a game it was hard for Troy to put it aside and move forward to winning the next game. Although Troy is a Pro Football Hall of Famer, it sure didn't hurt having such people as Michael Irvin and Emmitt Smith on your side.
During an autograph signing I got to visually watch him in action around people. People he didn't know. After an hour or so, with a line of a hundred or more fans waiting to see him, Troy expressed to the staff; he'd had enough. I was standing next to him. The staff announced he was feeling sick. I can't tell you how much it cost the men standing in line to get an autograph that never happened. Talk about disappointment. Troy could of used a few lessons from Mark Maddox of the Giants, Larry Homes, or Sugar Ray Leonard, who have always been happy to sign till the line has ended, regardless.
There's not a question about his ability in football or that he could land a ball perfectly in the hands of his receivers. He excelled at the sport. However, I enjoy him more as a sportscaster. He's more at ease with himself without the presser that comes with the sport.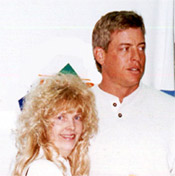 Herschel Walker
Not only is he a Heisman Trophy winner, he is also a guy who loves society. Herschel and I have something in common, humanity. Sitting with him at a Super Show and watching him maneuver during parties, Herschel displayed the super guy that his team members talk about.
Since I am from the Philly area, obviously my family and I are Eagles fans. There are many things that cause me to reflect back to my childhood days of why I am such a huge fan. Some of them are: my family members helping to build the stadium, watching the game in great seats, going to crowded bars and clubs and having fun while we all screamed at the TV which sometimes got out of control. The parking lots were always overflowing with tailgating campers and truckers.
It seemed normal to see tiny tots cheering off the shoulders of their dads at beer parties. All of these things contribute to why Eagle fans are true diehards.
And in case you didn't know from a woman's view point, Hershel gives a real hug that doesn't feel like a free feel. Perhaps like me you noticed that no matter what t-shirt Hershel wears, the eagle's wings are still across his chest. He is one of my favorite players.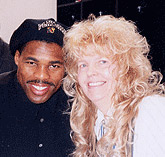 Dallas Cowboys Cheerleader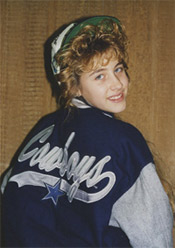 Wouldn't it be nice to have a cheerleader to follow you through life? Olivia Alive claimed the cowboys as her favorite team as a child. It didn't matter a hoot what anyone said, she just liked them. Even though her daddy sorta favored them, she liked the team's logo and their ability to make it to the SuperBowl. Most of Olivia's classmates favor the Giants. She enjoyed sporting Cowboy gear to school just the same. It didn't matter to her that most of her family were fans of another team. It didn't matter that she was Philly bred. Many times the family ragged on her about the in-your-face player Owens. She has always cheered on her team. She never realized that when she got older she'd be hanging with her personal business manager at venues with NFL and NBA players. Three cheers to cheerleaders.
Larry Holmes
What do you want to know about Larry? He's a sweetie. He signs autographs till his hand can't move. He gives bear hugs. He finds it easy to get places by helicopter. Everyone should know he was the heavyweight champion 1978-1985. He has his own street. He teaches kids who want to box and how to master the art.
In order to get to Larry you got to go through Jay. Jay is as sweet as Larry is, however, he doesn't box you around like other managers. I can't tell you how many hours Jay and I have spent on the phone just chillin'.
It may come as a surprise that Larry works out and that last time I felt his muscle, I'm sure his punch is probably hard enough to knock most of us out.
Mark Maddox
He's a guy who smiles during autographing. Most celebrities I've met aren't thrilled over signing their name hours on end. My clients Like Dat of L.D.G. & Olivia Alive have never complained. They give their fans respect. It is the public, the sponsors, etc., that demands every celebrity to do signing sessions. Mark's smile sucked me into watching him play on the Giants. I only have one grandson who's a fan of the Giants. He takes a lot of flack from the family sporting Giant gear on an Eagles' turf.
Mark is a guy who gives you respect for standing so damn long when you finally get up to him for the autograph. He speaks with you rather then at you. He's willing to let you take his picture. He's tough enough to withstand the hundreds of flashes even if he's seeing stars. I suppose it could be a pain in the a*s, but Mark does it with class. I've always enjoyed being around him at the many Super Shows and the parties that were thrown afterwards.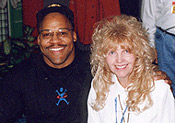 Emmit Smith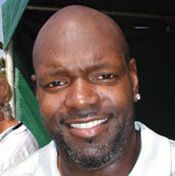 Several times at parties and autograph signings at the Super Show, Emmitt has been nothing short of being polite to his fans. He doesn't act like he's somebody special, just the normal Joe blow. Emmitt danced before "Dancing with the Stars" but it sure wasn't ballroom, nothing moved smooth, and his beat at times was slightly off. Perhaps, it was because he's such a relaxed guy out in public. Like many of his fans, I enjoyed Emmitt playing ball and his sportsmanship as a team.
Warren Bankston
Who could forget the NFL Players of yesterday? I met Warren through his father-in-law Charlie. I enjoyed spending a weekend as their guest touring Louisiana and seeing the flood first hand. It's hard to believe families are actually living in such tight quarters without any conveniences.
Warren is such a gentle speaker and so clean cut, it's hard to imagine him as a rugged football player with dirt on his hands. However, he played for many years on multiple teams and many positions. A QB, RB, and TB, 6 years with the Steelers and 4 years with the Raiders. We had a lot in common and spoke about how much we enjoyed Johnny Unitas. It's been some time since I've had a "Superbowl Ring" on, but I put Warren's on in remembrance of how heavy the darn things actually are on your finger.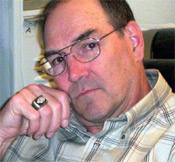 Marco Coleman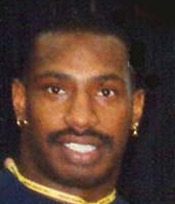 If you want to know a guy who cares about children and their wardrobe, you'd want to learn about the personal side of Marco off the field. Over the years many investment opportunities came his way. His associate and I would chill on the phone almost every week about the line, Fade Away. Marco used his money to stay faithful to the well being of children. Marco has a sense of what it takes to make a better world.
At the time I met Marco he was a Washington Redskin with mad skills. During one of the Super Shows, he let me see his silly side. He knows how to carry on, how to have clean fun, and how to make the best of an event. He maintains the same manners at the after parties — he's a happy-go-lucky guy who doesn't need to draw attention to himself.
Chris Snee
Chris grew up in the small town where I live today; just a dirt road away. Like many schools throughout the US, you can see favoritism among the coaches. Much like Michael Jordon, a child would have a better chance to show his/her talent in a college. The position Chris played in high school is a position in which a child only needs to show his ability, to handle the position. Chris sure did.
I believe children in many of our schools who want to secure the position of running back or quarterback who had a coach's son on his team, had to challenge the coach for the position. Most of them had little chance of ever becoming first string. And I'd sure like to know how many parents would boldly testify that throughout the US, sons of coaches secure those positions over other players who are just as qualified?
Chris went to school with 5 of my 6 grandsons. He befriended one. The one that wasn't a football player and broke school records in track. And I have another grandson who stands his ground as a Giant fan on an Eagles turf, at Spolar's Estate, who played football with Snee. I've had the pleasure of watching Chris grow up. Chris excelled on the field in high school. He showed he was able to fill the shoes of an NFL player when he played in college. I always got a laugh while sitting on the bleachers next to my son-in-law. Game after game I'd hear my son-in-law say, "I sure hope Snee doesn't fall on my son, he's Mighty Big." Three Cheers for the small town guy who reached his goal.
Chris has proved himself over the years on the offensive line worthy of being a second alternate for the NFC Pro Bowl roster for 2008. It's a good feeling walking into a small high school such as Montrose and see a Giants helmet in the showcase. Chris earned every bite of his Super Bowl ring.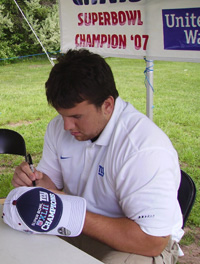 In Honor of the Late Johnny Unitas
How lucky I felt to have met Johnny as a young girl in a diner outside Philly. As the waitress came towards us she waved her hand to follow her and sat us together. As it turned out I had the pleasure of enjoying a super star QB for lunch, which not only picked up the bill, but also listened to my childhood drama with compassion. The years that followed we didn't keep in touch.
Lo and behold I learned that Johnny was coming to my hometown to visit a dealership. I called them and they hooked me up with his phone number. We met that night for dinner. This time the conversation was focused around Johnny. He spoke about how football players in his days didn't make big bucks, likewise with endorsements. I was shocked to learn he didn't ever want his sons to play football and what it was like to have a lot of children.
I was in the development stage of filming the story I told Johnny many years ago about my childhood. I ask him if I could cast him for the roll as my best friend. He asks me to do him a favor and use his son Joe. Joe was in many movies including "Any Given Sunday." I took his advice. When Joe arrived from LA he brought with him autograph pictures from Johnny for my family. The production opened the door for Johnny and I to converse more regularly. As it turned out the pictures were the last ones Johnny had signed. Johnny loved his family, he loved aspects of the game, he loved the fans, he became my friend, and was a humble man.
In Honor of the Late David Lang
Long live the spirit of David. The day I met David I took this picture. He soon became my client. This is a tribute about the side of David rarely seen. From the beginning my love for David was built on a common ground: giving to others rather then one's self.
David was a Dallas Cowboy super bowl captain for special teams. He was so much bigger than the ball he carried across the line. While visiting his home one got a glimpse of his world. He had a glory for God, a passion for kids, and the desire to raise above the drama plagued black culture.
Life after football was his theme. He became a teacher. He taught kids how to body build, how to eat healthy, how to meditate, and how to reach your potential. It was not unusual to see kids wondering in and out David's house. David and I had a million discussions over the twelve years of our relationship.
Most people would be excited to put a Super bowl ring on their finger. It sure was for me; feeling the weight of it and seeing it glitter. After the shock of it, I advised David to secure it by putting it in a safe place. David's reply was, "Peggy all kids would enjoy touching and seeing such a gem." David didn't worry much about material things. I'll never forget the day he called and said, " The ring is gone." He prayed for forgiveness for the person who stole it. David believed the person would come to their senses and return his award. That never happened.
David was murdered due to fatal naiveté. He lives on in the hearts of those who knew him and the joy he brought to society.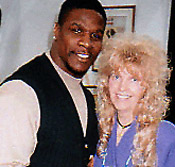 NFL Players David Lang, Marco Coleman, Terry Kirby, and Frankie Smith
These guys sure know how to have wholesome fun. A day with these guys and you'll split a gut. Just try watching Terry master a skateboard in a 10 x 10 space, or Frankie sitting in a director's chair given advise. Marco who thinks kids, cheered Terry on, while David picked up the stuff Terry ran over. What a mess these guys made.
Marco designed a school uniform collection to make kids feel good about themselves. The uniforms offered dated style with durability, that parents appreciated. I've always enjoyed the many discussions Marco and I had.
What can one say about David? He lived his life trying to do good things for people. David was murdered because society didn't want him to succeed.
Barry Goldstein: The Client
One of the top 50 best instructors in America. Barry is one professional who hasn't let fame go to his head. A guy who is always smiling. When you want advice about golf, Barry is the best. He writes for many magazines, is seen on the golf channel worldwide. He teaches at Polor Cap and in Coral Springs and Timber Ridge Golf Academy.
Barry has played golf with many celebrities such as Alan Sandler, basketball legend DR J, and Tiger. Barry enjoys teaching celebrities how to master the game. Danny Kanell, quarterback with NFL Denver Broncos, prior to that the Giants, and the Atlanta Falcons quarterback, was one of Barry's favorite teaching experiences. Their friendship went beyond the game.
As my client, I put Barry to the test by stepping off the course into a field he knew nothing about; acting. He landed a heavy speaking roll in a movie. Barry was a natural. In one of the scenes, he had to act like he didn't know a damn thing about golf or smoking a cigar. He covered his butt by the tenth hole with his natural perfect swing. However, he truly doesn't know one thing about cigars. As a matter of fact, he tried smoking the thing with the wrapper on. The film crew laughed and suggested perhaps Barry should step off the golf course and see what the rest of the world does for recreational activity.
Barry was impressive on-screen. Amazingly enough he has the ability to read 5 type written pages and act them out within an hour. He never once used the words, "Say what?" He's one of my easiest clients who rarely bitches.
Barry is a full-time dad to two daughters, Aubrey and Carly. Carly, like her dad, is makin' moves on the golf course. At 10 years old Carly won 15th and 16th tournaments in 24 events. This 5th grader doesn't have a problem competing against 8th and 9th graders. Carly befriended Natallie Gulbis. She actually got to putt with Natallie and Donald Trump in a pro-am. Carly has played golf with Tina Miller, who played in the past two US Opens.
Aubrey who is a year older then Carly enjoys multiple sports. She knows how to really hustle the ball – soccer, tennis and softball. I placed Aubrey in her first movie production in 2004 with a speaking roll. Both girls do well in acting.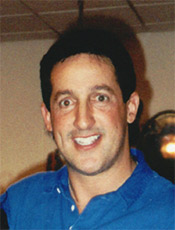 Soccer
Playing soccer requires constant changing moves and direction, which elevates the heart according to the Journal of Science and Medicine, in sports. A player keeps their heart rate above 70% and their max for 91% of the time.
Chris has proved himself over the years on the offensive line worthy of being a second alternate for the NFC Pro Bowl roster for 2008. It's a good feeling walking into a small high school such as Montrose and see a Giants helmet in the showcase.
The B-Senators
This hockey team is in my local area. They're an affiliate of the American Hockey League, NHL's Ottawa Senators. If you want to enjoy a night out just take in a B-Sens game. I'm sure it will hit the spot. It's filled with excitement, snacks, crazy moves on ice, the sound of sticks slamming, and screaming fans. I'm sure you realize the difference between the high decibel of noise from a hockey game verses my neighbor blasting sticks of dynamite and explosives into the air on my road, from a flagstone quarry he owns and operates round the clock.
The good news is, this neighbor is part owner of the B-Sens and he chose to spend some of his money so the community could have a good night out. I'm sure it feeling good when he sees the stands filled with an average of 5000 fans per game. The Binghamton Senators roster is star studded.
B-Mets
Take me out to the ball game, will ya? Take me out where there's concession stands filled with yummies, will ya? Take me out where the game performances thrill me, will ya? Take me out where there are fireworks, will ya? Take me out where it feels like I've gotten my money's worth, will ya? Take me out to where I can have a blast, will ya? Tickets to a Baseball game and I'll have it all, thank ya! (Copyright 2008) B-Mets, a minor leagues Baseball team that offers a night of fun for everyone.
Bodybuilding with Borough Men

Bodybuilding and exercising is the rage today. I began body building in my thirties when it wasn't as popular. I stuck with it till I was in my late forties. Bodybuilding was looked upon as a sport (hobby) back then. Today it's looked upon as healthy workout sessions. It doesn't seem to matter to doctors what your ailment is. They insist that patients exercise.
Many workout places have trainers available. To be a certified trainer, all that's needed is to take a test by studying a few questions online. Hey, you even get three chances to take it over should you fail the 10 questions. It's easier than taking a driver's test. Perhaps, that's why you hardly see any results on people walking out of bodybuilding facilities. A sport trainer is a whole other animal, with a college degree who can take you to the next level.
We have a bodybuilding area in our basement. My twins worked out every day, lifting weights and playing the same soundtrack, "Rocky I." You could hear their grunts and the music on the second floor. They'd say, "where there's no pain, there's no gain." When the grandchildren came along they followed their fathers into the basement workout place. The music changed and the grunts seemed louder.
When I got my office in NYC I looked for a place to work out. An R&B from Memphis singer named NaNa and I would head for Beacon Center in Harlem. We'd work out everyday in a facility there. I learned a new kind of bodybuilding, which I call Borough Men. In a room filled with mostly urban men, bodybuilders from one borough would challenge bodybuilders from another borough.
Each bodybuilder would show how strong he was by the amount of weight he could bench-press. It seemed like everyone there wanted NaNa's a**. He had no borough behind him, only me. After three months of eye contact from all the Borough Men watching us bodybuild, a guy stepped forward and said, "it's your turn, show us what you got."
NaNa said, "add another weight to what you just pressed." The room became still. I said, "NaNa what are you doing?" On the way back up with the weight bar, NaNa was struggling. No one helped him. His eyes were bulged like a bullfrog's. He made one last effort. He reached the rack holder, stood to his feet and said, "no one messes with a man from Memphis, mother fu**ers." We walked backwards out of the facility and never went back. After that I look at bodybuilding as more than just a sport. It makes you healthy. I learned challenges in bodybuilding can bring forth Borough Men from every state.
The Saints Fans
There's something to be said about being in New Orleans on Bourbon Street during a Saints game. Although Saints fans aren't as crazy as Eagles fans, they know how to hang loose and party down before a game. Rockin' block for block along Bourbon Street, music blasts from clubs plastered on both sides of every block. There's dancing in the street and beer bottles ring out.
Fans are decked out with painted faces sporting the colors of the Saints like when you were in high school. Although they knew I was an Eagles fan, they didn't seem to give one damn. Three Cheers to the Saints fans…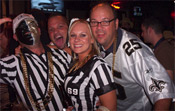 Cornelius Bennet - No. 97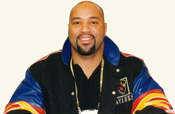 Meeting and watching Cornelius move through the crowds at parties, events, and conventions makes you want to drink a smoothie. He has lots of flava. Back in the days of the Super Show, I watched Cornelius signing autographs for hours. As a tackle, he was known for successfully recovering many fumbles. You may remember him from the Buffalo Bills, Colts, Falcons, or as a five time Pro Bowl player. Everyone who gives him love will see a winning smile. Cheers to this tackle…
Choconut Valley Riders

Snowmobiling is a family sport that everyone can enjoy. It makes for winter fun if you live where there's lots of snow. The Spolar family lives where snow has been plentiful over the years. My children and the grandchildren have been riding sleds across the trails since they were youngsters.
As family we'd go miles on sleds stopping at every bar to warm up. Along the way at each one of the stops there would be other groups of snowmobilers and multiple types of sleds. The Spolar family's choice is to ride custom designed Cats… I had a Bad Kitty…
After many years my children joined a club, called Choconut Valley Riders. The club has by-laws for their members, who clean trails with groomers and build bridges so sleds can cross the creeks.
They've held snowmobile drag races, dinners, clambakes, Easter egg hunts, and other events, and have been successful with annual Harley raffles. They are grateful to the landowners that let them travel across the hillsides and through the forest. They have sponsors and a clothing line. Meetings are held monthly.
Drag racing is an all day event, which my children and the grandchildren enjoy. Racing and keeping a sled running at top performance is an art in itself that my guys conquered. Things to conquer as a rider are the fear of high speeds, crashes, and rollovers.
All types of sleds roll off trucks into the garages at our place, guys wanting my twins to check the sled's performance. We're known as the Bad Dog Racing Team. Three cheers to Choconut Valley Riders…
4 Wheeling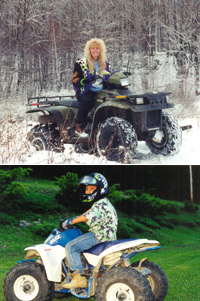 I may have never known what it would be like to ride a 4 wheeler across mountains if I had stayed in the Philly area.
Likewise, my children and their children ride them. 4 wheeling can be a family sport and a 4 wheeler can also be your workhorse. We plow with ours and they do a kick a** job.
My twins named Greg and Mike, took 4 wheeling to the next level, racing. They had never raced a day in their life. They did, however, fool around with each other jumping piles of dirt in our upper field. The grandchildren rode with their parents till they were old enough to ride on their own. It seemed pretty harmless at the time.
One Friday morning the twins began loading the truck with a handful of tools, a few clothes, their helmets and two 4 wheelers. When I ran out to question what was going on, the reply was, "we're headed for the Grand Nationals in West Virginia." I said, "you got to be kidding" as I ran for my clothes and the rest of the family. We piled into a car and off we went. When we arrived I noticed every rider had a team of machines, two to three bikes per rider and fancy trailers. We entered the event like a bunch of hillbillies.
When the twins hit the track I fell to my knees. Everyone around me was screaming for the pro-racer of his or her choice and the TV cameras were rolling. Tears were streaming down my face. We were unknowns out of our ledge. We had enough money between us to pay for one hotel room. It was the first time I experienced what it was like to bathe after 13 people. The shower had sand and dirt so deep in the tub that in order for the water to go down, I had to bale it out by bucket into the toilet. It was the first time I experienced a used towel. Lucky for me, I was one of the oldest in the crew so I got to sleep in the bed.
The twins were diagnosed with E.S.P. when they were born which led me to believe that both boys were actually riding the same bike, regardless of the difference between the helmet and suit color. There were many accidents throughout the day. The race was halted as a helicopter landed to pick up a rider in critical condition. The race began again.
Greg crashed into a rider in front of him who stalled on a jump. Greg flew off the 4 wheeler and held his ribs. The paramedic diagnosed Greg with broken ribs. Greg jumped up and continued to ride towards the finish line. Greg's bike was messed up and there was no way he could finish the race. Once the track was cleared the race continued.
The twins were down to one 4 wheeler in order to finish the race. As one twin came to the finish line he'd jump off as the other twin jumped on the 4 wheeler, without falling behind. Greg's accident set him back a lap, which meant he couldn't win. Pain didn't stop Greg from helping his twin brother, lap for lap out on the track.
I knew that the twins were mentally riding together. Mike took 12 place. After the race the twins walked over to me, stood me to my feet and said, "Happy Mother's Day. Our gift to you is that will never race again."
Archery Champions

Spolars are a family of archers winning championships upon championships over the years. As family they traveled to tournaments around the country.
The Spolar twins are the inventors of the "Bad Dog" sight holder. It is guaranteed to keep the sight level and never loosen during the big tournament. The Bad Dog mounting bracket prevents all sight movement with a positive locking mount bracket. The Bad Dog was invented for the winner circle of Champions.
Spolar's are winners in the sport. Once they conquered the sport, they moved onto another sport. Three cheers to the cheerleaders in the bleachers, which were the Spolar children.
Tom and his sons used their dominant eye and precision aim to become experts in all fields of archery.
Rich Franklin and Rocky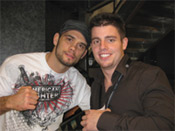 Most people know Rich as a mixed martial arts fighter. Rich is beyond an American Fighter. When Rocky met Rich and began talking to him it seemed as though they had known each other for years. I felt the same way when I met him. Rich has a personal side that out does his fighting ability. He is human, cordial, and a gentleman. Three cheers to this American Fighter…